Frequently Asked Questions
1. Is Atlantic-Gro® Dried Seaweed Meal approved for use in organic farming?
Atlantic-Gro

®
products 100% wild harvested Kelp and Rockweed and does not contain artificial additives, preservatives, fertilizers, pesticides, hormones, antibiotics or genetically modified organisms (GMO).
NAO's
production facility and its harvest sites are designated at Certified Organic to the Pro-Cert Organic Systems LTD to the Canadian (COR) and US (NOP) standards. For a copy of the Organic Certificate and Certificate of Conformity
click here
.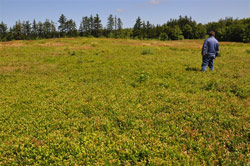 2. How do I feed Atlantic-Gro® Dried Seaweed Meal?
Our product can be fed in a number of different ways depending on the farm feed delivery system. It is typically top dressed (sprinkled on top of a grain or forage), mixed in the "short feed" (a complete grain mix ration blended on farm or custom mixed by a feed mill) or mixed into a TMR (total mixed ration containing all forage, grains, and supplements). A number of operators "free feed"
Atlantic-Gro

®
, allowing the animal to decide when and how much it requires.
3. How do I store Atlantic-Gro® Dried Seaweed Meal?
Products must be stored in a dry place cool place away from heat and exposure to sunlight. By storing the product in these conditions, they are able to maintain their nutrient profile for several months.
4. How do I purchase Atlantic-Gro® Dried Seaweed Meal?
NAO
maintains several dealers across North America.
Contact us
with your enquiry and we will direct you to the closest dealer in your area.