North Atlantic Organics Ltd (NAO)
was established in 2007 to
produce
and
distribute
natural storm-tossed
sea plants
harvested from the cold-clean waters surrounding the shores of
Prince Edward Island
.
Sea plants, more commonly known as seaweeds, are marine macro algae that live in the sea or brackish water. Scientists refer to them as
"benthic marine algae"
; in other words
"attached (to the bottom) algae that live in the sea"
. Sea plants have been used as animal feed supplements and soil conditioners for centuries – long before inorganic minerals and nutrients were discovered and made readily available.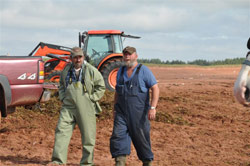 The inspiration for this business came from
Joe Dorgan
, part owner in
NAO
. He converted his dairy cow herd to organic a number of years ago, but struggled to find a natural source of dietary mineral supplement. Joe began experimenting and found that locally harvested sea plants were a fairly complete natural mineral supplement in the dairy ration. As a result, overall herd health and milk production increased substantially and animal health costs decreased by a third. The biggest benefit was in the strength and duration of estrous or, as Joe would say in his colourful rural vernacular, "rip-roaring heats". He attributes the increase in production and improvement in the overall health of his organic herd to the natural sea plant supplements that he harvested and dried from the local shoreline.
NAO
has invested a considerable amount of time, energy and resources in product research and development. The
production process
of sea plants has been perfected and we have received regulatory approval for commercial distribution of our mineral supplements under the
Atlantic-Gro®
label. Visit
Our Products
for more information about our sea plant products, and where to buy them.